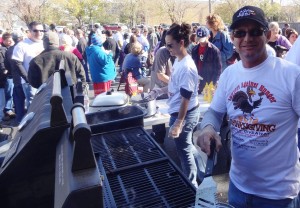 For the third year in a row, David Bernstein and Lawyers Fighting Hunger are once again raising money via attorneys, professionals, doctors, businesses and individuals to purchase turkeys to give away to the less fortunate for Thanksgiving.
Last year, Lawyers Fighting Hunger raised enough money to give away close to 1,000 turkeys in downtown Norman, and the charity gave away thousands more in Oklahoma City, Tulsa and El Reno. All money raised in the Norman area stays in Norman to feed its residents.
The Regional Food Bank will once again assist in purchasing the turkeys and storing them in a truck with a freezer. We will also have military personnel, Norman firefighters and police assist us with crowd control and help with handing them out on Thursday, Nov. 21, 2013, which is one week before Thanksgiving. There will be free bottled water and soft drinks, and Classic '50s Drive-In has agreed to cook free hot dogs and hamburgers during the distribution in Norman.
The distribution party will begin on Nov. 21 with registration starting at 11 a.m., and turkeys will be given away from noon until 2 p.m. or until there are no more turkeys available.
David Bernstein, cofounder of Lawyers Fighting Hunger, is once again contributing $5,000 to get the donations started, and challenging others to donate $1,000, $500, $250, $100, $50 or $25 to help give back to the less-fortunate in the community. Donations of any amount are appreciated, and they are tax-deductible!
The deadline to order turkeys is Monday, Nov. 4, 2013. All donations mailed or dropped off to David Bernstein Law Firm, 104 W. Gray, Norman, OK 73069, will go to the Norman turkey giveaway. Checks should be made payable to Lawyers Fighting Hunger for whatever you can afford. Or, go online and donate at www.lawyersagainsthunger.com. It will make a difference in people's lives. And it will make you feel good inside.