We invest ourselves and our resources into our community…
We're committed to our community. We've made it a priority to invest ourselves and our resources back into our city. Our philosophy on giving back is simple — If you can, you should. It may take extra effort or adjusting our schedule, but we believe that it's important to contribute to something bigger than ourselves.
Here are a few of the ways our firm is giving back: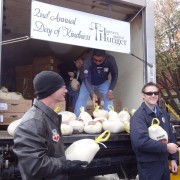 In 2011, David Bernstein was one of three Oklahoma lawyers which founded Lawyers Against Hunger (now known as Lawyers Fighting Hunger), a non-profit charity that provides food for the less fortunate. Every year since 2011, David Bernstein annually donates $5,000 and gets tax-deductible donations from lawyers and others to provide hundreds and hundreds of free turkeys from the Bernstein Law Firm parking lot before Thanksgiving. Free hamburgers, hot dogs, bottled water and soft drinks are also given away at the annual event, and it is a festive occasion.
The stories from appreciative families of how they could now enjoy a Thanksgiving meal really hit home. We sometimes forget how good most of us have it in America, and that there are people with disabilities and people down on their luck that need help feeding their family.
One person commented: "No matter where you come from everyone has ups and downs. Events like this has restored my faith in humanity." Another said, "Being between jobs I didn't know if I would have money for a turkey. Thank you." A grandmother told us, "I have a large family gathering and only a part time job, so this is really a blessing. I pray God will richly bless you for helping so many."
Bernstein Law Living Safer Magazine
For the last few years, David Bernstein has been publishing the Bernstein Law Firm Living Safer Magazine (formerly know as The Bernstein Law Firm Safety Report). Every three months, this magazine publishes informative articles that help you live a safer life. If you would like to be on the mailing list, send David Bernstein an email to DBNormanOK@aol.com.
The fight against multiple-sclerosis (MS) is an issue that hits close to home for our firm. Devin, our legal assistant, has MS, which is presently in remission. We're committed to financial support and members of our legal team participate in volunteer activities and fundraising events throughout the year. Please help us support this important cause and give generously to the Oklahoma chapter of the National MS Society.
The purpose of Oklahoma Lawyers for Children is to use the time, talent and resources of qualified pro bono attorneys to represent children in the Juvenile Division of the Oklahoma County District Court. We financially support this important organization and encourage others to do the same.
Norman Historic District Commission
Years ago, Mr. Bernstein was asked by the Mayor to join the inaugural board of the Norman Historic District Commission. He served as a board member for many years and with the other commissioners helped shape the direction this committee would take as it moved forward. Since leaving the board, Mr. Bernstein remains committed to helping ensure that Norman retains its place as one of the best places to live.
(In 2008, CNN/Money Magazine ranked Norman as the 6th best small city in the U.S.)